Covid Clean Policy
Urban Rec Australia is committed to providing our members with timely, evidence-based information on the coronavirus (COVID-19) that recognizes the unique concerns and context associated with social sport.
Our Urban Rec Australia COVID Clean Action Plan is a tool guiding how we are adjusting our protocols to ensure that sporting activity can continue to be played safely in accordance with the federal, state/territory and local public health authorities. Urban Rec Australia recognizes that flexibility may be necessary to accommodate and respond to changes in community transmission rates, and any associated changes in directives from public health authorities. Urban Rec Australia acknowledges that localized outbreaks may require a restriction on social sports activities; and/or that the detection of a positive COVID-19 case will result in a standard public health response, which could include a quarantine of a whole team or large group. Urban Rec Australia's priority is to preserve public health by minimizing the risk for community transmission within social sports.
COVID CLEAN ACTION PLAN
Urban Rec Australia has taken the following steps during the break to ensure we are playing social sports (now that we have returned) with member safety as the top priority:
Development of COVID Clean Fact Sheet
UR HQ disinfecting and cleaning of all equipment, including balls, cones, flags, etc
Restock of all sanitary and hygiene supplies for each kit to meet general hygiene measures
Communication with venues to ensure general hygiene standards are being met by our partner venues
Review of policies to update for post-COVID social sports life (see below)
Development of a member education plan
URBAN REC POLICY CHANGES
Urban Rec Australia has updated a few policies to comply with post-COVID social sports life. Below are summary changes to our policies:
All subs MUST have a current Urban Rec member profile, with an updated waiver and code of conduct
All subs MUST be on the team roster prior to the game commencing
All teams MUST nominate a team color prior to the season with their League Manager, and must show up in that team color teach week.
Urban Rec Australia will not be providing any bibs at games.
CONTACT 'TRACK AND TRACE' PROCEDURE
Urban Rec Australia puts our member safety at utmost priority. We have a 'track and trace procedure,' in case there is a positive test for COVID-19 for one of the members that is playing with us. All players must be current Urban Rec members. Urban Rec Australia staff will be checking prior to games that players playing are actually Urban Rec members. It has been strongly recommended that all Urban Rec members have the COVID safe app. In the event that a member playing with Urban Rec Australia tests positive, we ask that person to do their due diligence and notify Urban Rec Australia as soon as possible, so the following steps can be taken as soon as possible:
Urban Rec Australia member notifies Urban Rec Australia HQ that they have tested positive for COVID-19
Urban Rec Australia HQ to ask that the member contact Health NSW
Urban Rec Australia HQ to notify staff members present on the night
Urban Rec Australia HQ to notify the entire league that there was a member who tested positive and include the time frame during which that member would have been present at the venue
Urban Rec Australia HQ to notify any other leagues that individual may be playing in
During all communication, confidentiality and privacy will be maintained so as to not share personal information.
As of 01 July 2020, NSW State Government authorized a full return to social sport.
Guidelines within the full return to social sport includes:
Recommencement of full social sport activity.
No limit on group size (unless dictated by our partner venues).
Focus on hand hygiene and cleaning measures.
Encourage players to not loiter before/after games
Maintain social distancing guidelines when on the sidelines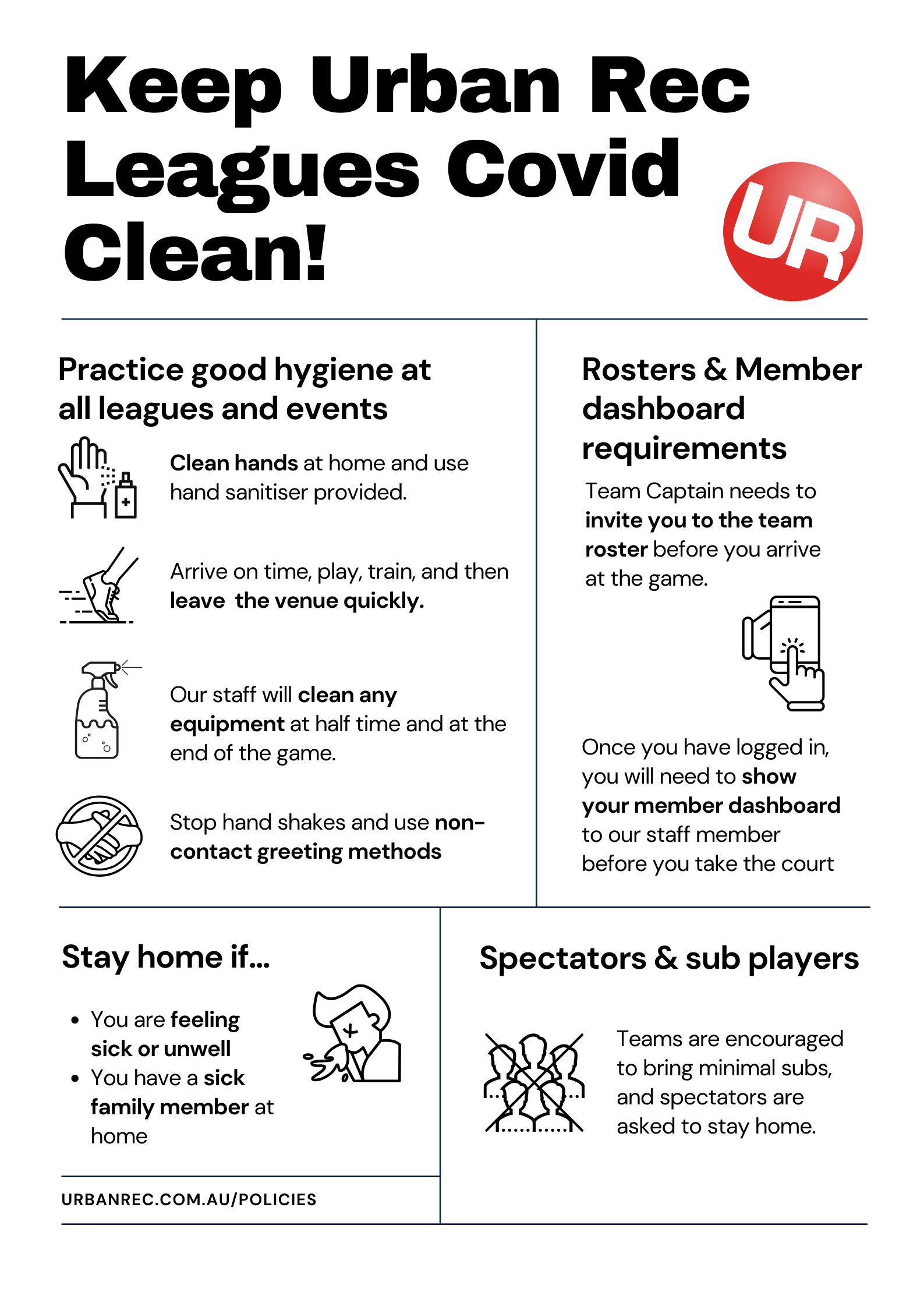 Resources = Australian Institute of Sport, Australia Olympic Committee, Australia Public Health & NSW Health