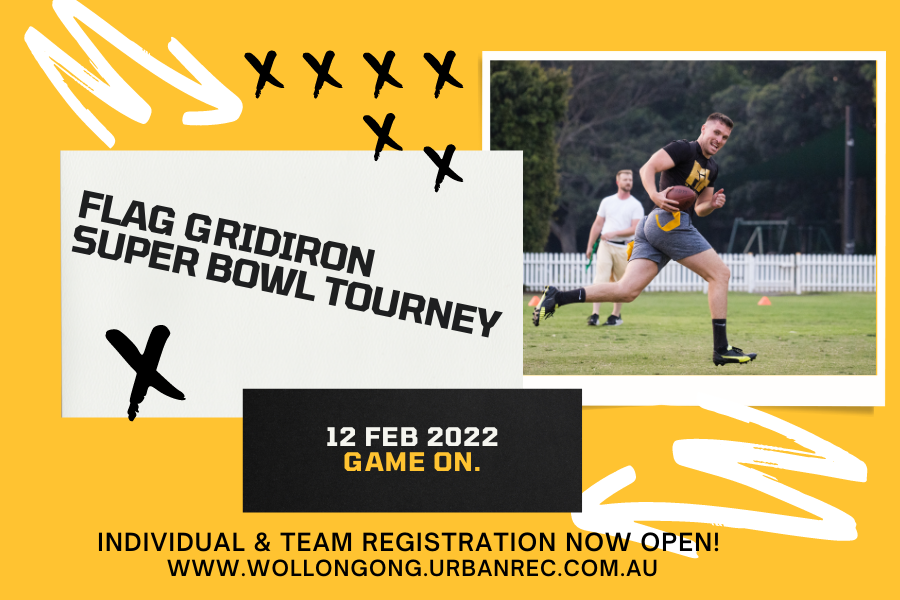 Superbowl Flag Gridiron Tournament
NFL fan? college football? madden? or maybe just sportsbet?
Whatever you're an American Football (Gridiron to all you Aussies) fan or never heard of it, we invite you to play in our Superbowl Flag Gridiron Tournament! With the NFL Super Bowl happening in February, we figured we would give you a lil' taste of the play actions, pick-6s and TD celebrations yet to come by inviting you to grab your mates for some quality team bonding time to play as a team OR register as an individual to be placed on a team wiht some soon-to-be-friends!
If you played with us last year, you know that it was an epic time. We decided that for this year, we'd make it even better by giving you all a true ROAD TRIP EXPERIENCE! What?! → epic, right?!
We are stoked to be partnering with our sister city in The Gong to host a Superbowl Flag Gridiron Tournament. To all those asking us for a bit of cross-league competition or cross-city competition...now is your chance!
NOTE – There will be an option to take an Urban Rec party bus down to Wollongong and back with other teams keen to do the same. There will be an additional fee to join the party bus (cost TBC ASAP). If you are interested in this option, please shoot an email to [email protected] and we'll be in touch with additional info.
What to expect?
Round robin tournament with playoff brackets
Intermediate & recreational skill level divisions
Toe-tapping music
Positive vibes
Tailgate party – Urban Rec style
Post tourney celly at the pub
Stellar Event Hosts with first-hand experience in the world of Gridiron here in Australia
Prizes
Fun times
NOTE – there are 2 options for registration = (1) Register as a team; or (2) Register as an individual player.
REGISTER USING LINK IN DESCRIPTION